Promoting a tobacco-free generation through community prevention and cessation resources
CASY's Tobacco-Free Vigo (TFV) seeks to promote a tobacco-free generation through prevention education, supporting tobacco-free environments, and assisting tobacco users who want to quit. Tobacco-Free Vigo, formally known as Tobacco Prevention and Cessation, is a diverse coalition representing health care, education, business, housing, and other sectors in the community assists in these efforts. Through direct programming and public awareness campaigns, CASY works with its many community partners to foster safer, healthier environments for youth in the Wabash Valley. In 2020, Tobacco-Free Vigo unveiled not only a new name but also a new logo in an effort to better align themselves with the mission.
What We Do
Prevention Education – CASY TFV partners with local K-12 and post-secondary educators to empower youth and young adults to live tobacco-tree lives.
Tobacco Quitline Promotion – CASY TFV helps health care providers, businesses, and organizations in the community make the best use of this free, evidence-based resource for helping people transition to tobacco-free living.
Outreach – CASY TFV works to include disparately affected populations such as veterans, minorities, those with disabilities, and the LGBTQ community.
Environmental Change – CASY TFV promotes the universal benefits of tobacco-free environments in many arenas including the workplace, public spaces, and multi-unit housing.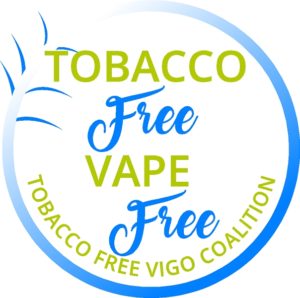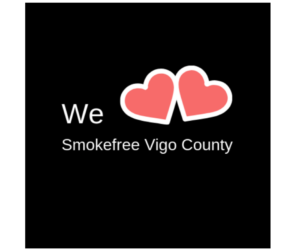 CELEBRATING TEN YEARS SMOKE-FREE
Vigo County residents and visitors have been able to breathe easier for the past 10 years! Thanks to city and county ordinances that went into effect on July 1, 2012, people in Terre Haute and surrounding communities can enjoy smoke-free indoor air in all public spaces. These comprehensive ordinances also protect all workers, including those in hospitality venues.
In recognition of this anniversary, CASY and the Tobacco-Free Vigo Coalition are celebrating #TenYearsAndCounting. You can join us by following us on Facebook, Instagram and Twitter @TobaccoFreeVigo, signing up to receive our newsletter, or even becoming a TFV volunteer.
How Your Teen is Targeted by Big Tobacco
Parents, Know the Risk (E-cigs)
How Juul Made Nicotine Go Viral
"In 2018, 1 in 5 high school students reported using e-cigarettes in the past month" (Know the Risks).
Want to know more about our services?
Program Coordinator for Vigo and Sullivan Counties:
Sarah Knoblock at sknoblock@casyonline.org or 812-231-8915.