---
Offering first-time youth offenders a second chance through restorative justice.
---
Chances And Services for Youth's Teen Court gives first-time offenders a second chance. Young offenders are referred to Teen Court from the Juvenile Probation Office and appear before a court made up of their peers. They are sentenced by a jury of their peers and offered an opportunity to give back to their community for their offenses.    
For more information, please contact Teen Court Coordinator Holly Mullenix by email hmullenix@casyonline.org or phone 812-231-8918.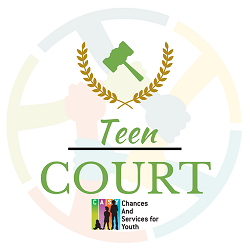 How Teen Court Works for Youth
Teen Court is is targeted to assist first-time offenders and designed as a type of deferred program for children meeting certain eligibility requirements. To qualify for the program, the teen must admit to a misdemeanor or lower charge. The court session meets out a constructive sentence before a judge through a process utilizing teenage attorneys and jurors, giving a true definition to "jury of your peers." Constructive sentences will include community service hours, jury terms, workshops, and essays. Each case brought before the jury will be different, as will the sentences. Once the sentence is completed, there is no evidence of the offense in the teen's record, effectively giving the teenager a second chance to be a model citizen. The idea is to target those who, with some encouragement, have the best chance of staying out of future trouble.
Teen Court Participants
As with any program, success depends on the commitment of those involved. The participants in the Teen Court program are predominately teenagers. The program utilizes teenage attorneys, teenage/college intern bailiffs, teenage/college intern court clerks, and teenage jurors. With the aid of a few adults, these teenagers develop leadership abilities, teamwork skills, and a sense of self-worth. Listed below are the main participants in the Teen Court program.
The Defendants
The defendants are teens in the community, usually referred to Teen Court from the Juvenile Probation Office. After they are ticketed for their offense/s, they are referred to Teen Court.
The Attorneys
The attorneys are trained volunteers. The training consists of situational lessons, job shadowing, acting as supportive counsel and lead counsel. The teen attorneys may call and question witnesses and bring forth information pertaining to their argument of the case. Aggravating and mitigating circumstances are heavily discussed.
The Jurors
Teens make up the jury, and their verdicts must be unanimous before they can return from deliberation. The defendants participating in this program will be required to serve at least one term as a jury member but no more than four. Members will be selected from area schools. Participants will be able to select from three different terms: fall, spring, or summer.
The Judge
The judge who serves Teen Court will be a local judge or attorney. Should the judge be unable to serve the local Teen Court, the Teen Court Program Director will serve as judge. An adult is used in this capacity to create the real effect of a courtroom appearance.