The CASY Child and Adult Care Food Program (CACFP) is designed to help children enrolled in child care facilities receive the nutritious meals their growing bodies need, while keeping costs down for the child care provider or facility. The program does this by reimbursing the child care provider or facility based on the number of meals served to enrolled children and providing ongoing nutrition education to child care providers. This in turn aids the parents, because not only are they assured their children are receiving nutritious meals and snacks, but their child care costs are kept down as well. The CASY CACFP staff also offers continuing education and support to CACFP-enrolled child care providers. This federally funded program is administered by the Food and Nutrition Service (FNS), an agency of the U.S. Department of Agriculture (USDA). The Indiana State Department of Education administers CACFP at the state level. CASY is a Child and Adult Care Food Program Sponsor contracted with the Indiana State Department of Education and serves the West Central Indiana. 
Click here to learn more about Indiana's Child and Adult Care Food Program or view the current reimbursement rates.
For more information regarding the CASY Child and Adult Care Food Program contact CACFP Director Terri Hemminghouse at themminghouse@casyonline.org or by phone 812-231-8913.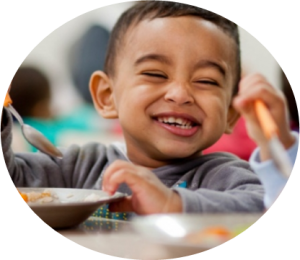 CACFP Claiming and Reimbursement Information
CASY CACFP uses Minute Menu KidKare as our claiming system. With Minute Menu KidKare, a child care provider documents claim information and enrollment online. Minute Menu KidKare reduces time spent on claim documentation as well as reducing claim errors and dis-allowances. Minute Menu KidKare also maintains several of the required CACFP records online which decreases the amount of paper files to maintain for your CACFP facility. Monthly CACFP reimbursement dates are immediately sent out to CASY CACFP providers through Minute Menu KidKare broadcast messages. View reimbursement rates here. View CACFP Income Guidelines Here.
CACFP Online Training Resources
Additional Health and Nutrition Resources
ICN's research-based education and training resources are designed to support CACFP professionals in successfully implementing the program's requirements.
 Learn more about the topic of nutrition and physical activity for children. These child care provider training courses cover topics such as healthy weights, feeding young children, food allergies, food safety and more. (Must be CACFP approved training topic)
Better Kid Care's On Demand Distance Education system provides professional development online anytime you are ready to learn! (For Child Care Homes only, must be CACFP approved training topic)
Bright Futures Obesity Prevention Training for Child Care Providers, a curriculum that helps child care providers working in local programs make sure young children are physically active.